Quarantine Bike Scene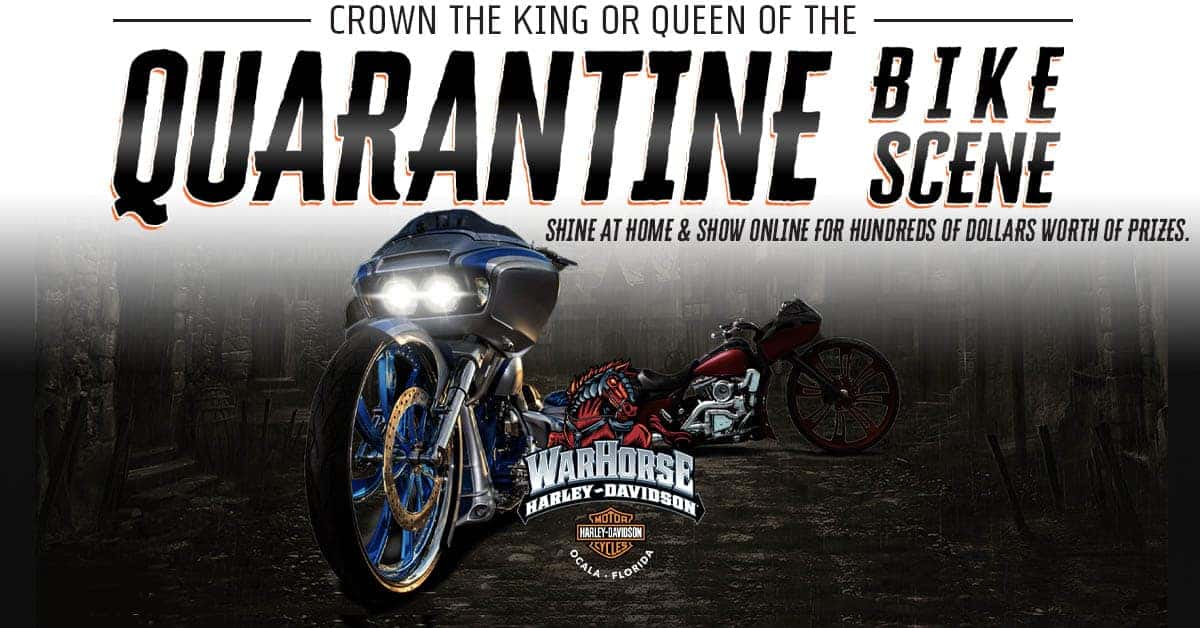 Winners Announced!
Did your favorite bike win? Click HERE to view the announcement video!
=================
Voting is now open CLOSED!
The Quarantine Bike Scene is now in full swing. Go VOTE by leaving a like or any other reaction on the bikes of your choice.
View the full album right here.
=================
We're hosting a bike show that's taking place on our Facebook Page with real prizes, and EVERY entry instantly earns a free War Horse Pin and Sticker! That means you can shine at home and show online for hundreds of dollars worth of prizes!
We're accepting entries NOW – Thursday, April 23rd. All you have to do to sign up online is answer a few easy questions, and upload your photo!
<REGISTRATION CLOSED>
On the morning of Friday, April 24th, all entries will be posted to our Facebook Page, and voting will officially be open. Voting CLOSES Sunday, April 26th, and Winners will be announced Monday, April 27th at 1pm.
Not only will you get to show off your bike to our thousands of fans, we'll have hundreds in prizes for the top 7 entries:
First Place: $250 Gift Card to our Parts Department
Second Place: $150 Gift Card
FIVE Runner-Ups will receive prizes hand picked by our staff!